It's time for the One Room Challenge and we've decided to try to makeover our kitchen.
You guys haven't even been introduced to our "new" house yet, hopefully that will come soon, but you'll meet our kitchen today.
It's T-I-N-Y.
Tiny 1940s galley kitchen.
Here's the kitchen from the dining room minutes after we signed the papers for the house (we showed up with bubbly and the pups to celebrate, and found that the sweet previous owners left us bar stools, wine and dog toys-so sweet!).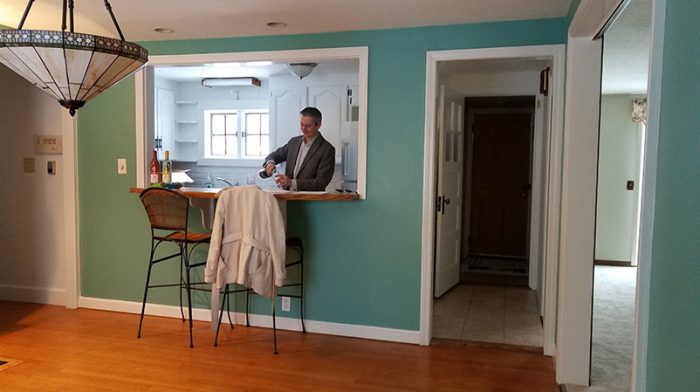 The house is a complete mish-mash of styles, the cabinets are colonial, the backsplash is fake brick, while the walls are cape-code style paneling. Light fixtures are a mix of 80s, 90s, and 2000s.
The kitchen is so tiny that the previous owners very inventively put a dresser in it for some extra cabinet space. But it's just too tiny to be functional in the way we like to use a kitchen (together and a lot).
Here's after we moved our things in and replaced the teeny-weeny fridge:
Of course, I promptly covered the "merlot" laminate countertops with contact paper (which you totally need to try if you need a quick, cheap and pretty sturdy makeover $5 guys. Five dollars.). They've been in place for a year and I love them just as much as I ever did.
Look at the FIVE DOLLAR DIFFERENCE:
Anyway, it's all going away. 😀
So, so excited for the extended special-COVID-edition of the One Room Challenge this year.
Plans are:
No more wall between kitchen and dining room
New appliances
Swap places with fridge and stove
Island with storage and seating where divider wall is
New cabinets
Design plans:
Black, white, and wood tones. Like so:
(Click on picture to see everything on Pinterest.)
More details forth-coming, but we're planning on doing a lot as we go as so much (like cabinets and countertops…) is unavailable at the moment.
Let the games begin!