So, the cabinet in our bathroom has been bothering me for quite a while. The bathroom was the first room we started remodeling when we moved in, and we went with a sink set from IKEA. They don't sell it anymore, but it was everything you needed: sink base, sinks, faucets, and a big old mirror/shelf unit, and it was REALLY inexpensive. So that's what we got.
I changed out the handles a while back, and while it helped, I still was dissatisfied with the look of the cabinet as a whole. So I did this:
This is how it was before:
I used 1/4″ x 2″ poplar trim pieces from the home improvement store and trimmed the drawer fronts. The pieces were measured and each end was cut at a 45 degree angle. The cuts were made with a little crafting miter box (the kind from the craft store)–and I don't recommend that. The metal it's made out of did not hold up well to the saw for that many cuts. Next time, I'll get a serious miter box. Actually, next time I'll just use the miter saw, and save 30 minutes of hand-sawing.
Anyway! I made the cuts one at a time to ensure they all fit snugly. To test the lengths, I held them in place with double-sided tape. Once they were all good, I removed them one-by-one and put them back up with hot glue. I was going to use the super-strength glue, but it seemed excessive (and expensive) for this project since the pieces would also be caulked and painted.
After gluing the trim on, I caulked all the seams and corners, and filled the holes left from the handles. Of course, since it's laminate, 2 coats of primer went on. Then paint. Then the handles. And now we like it much better.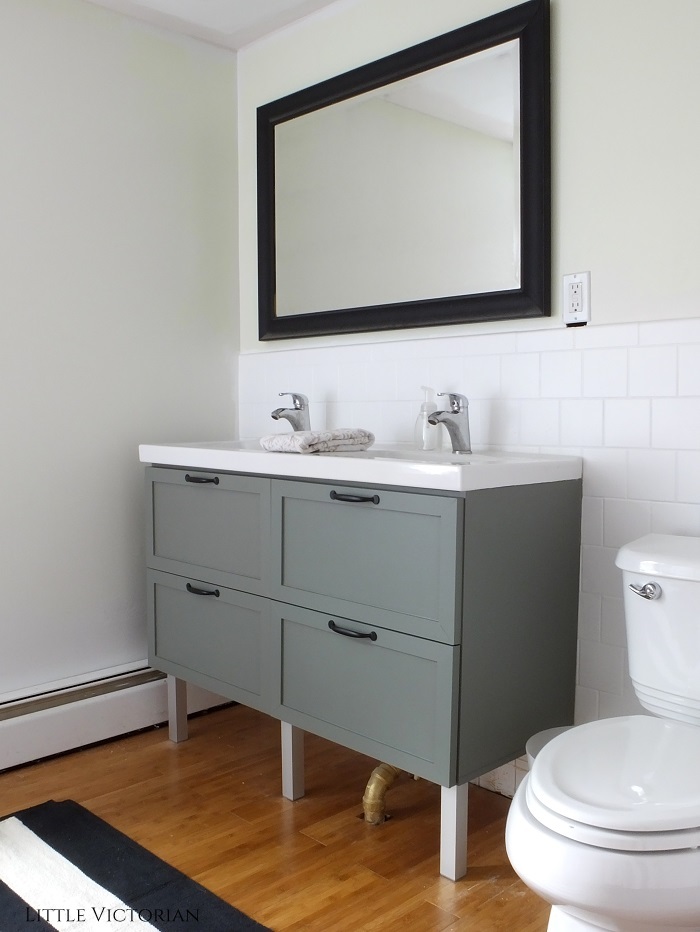 The trim pieces only cost $12, and the quart of paint cost $10, so it was a really inexpensive update too.