So generally in our house, it goes like this: I come up with a crazy renovation idea. The Hubs sighs and/or thinks it's awesome. Then he, being an engineer, gets straight to the logic and maths and facts and all the other things that take up too much time and could be skipped that will make the ideas actually functional.
So, we sit down and brainstorm and sketch together, and then we get to work. He leads in building the structures and foundations (like framing, drywalling, demo, electrical, plumbing, etc.) and I assist. Then when he's at work the next day (or over following months), I plan and carry out the finishes like trim, moulding, painting, etc.
This latest project was no different.
Behold, our DIY sliding-door butler's pantry:
Yes, you're right, it's not a butler's pantry at all, it just sound fancy, so that's what I call it. It's just a closet/pantry/built-in china cabinet in the dining room.
So, if you remember, from once upon a time when I blogged: our dining room is huge in scale compared to the rest of the house. In the 1890s when the house was built, it was the combo kitchen and dining room.
We didn't need that much room and it was pretty out-of-balance for this small house.
One thing I love about the new pantry is that we made it level with the weird fridge box that's in the middle of the kitchen. So now the fridge box doesn't look as strange!
If you remember, there was just a wall there before where we put our china cabinet and buffet:
So for the technicalities:
We framed it out, just like you would do any wall.
The Hubs procured kits for installing sliding closet doors, along with 8 foot pieces of high-quality plywood to trim down to size for each door.
We hung a shelving system similar to this (affiliate link) and employed our old trick of using stair treads as shelves because they're more substantial, and just prettier.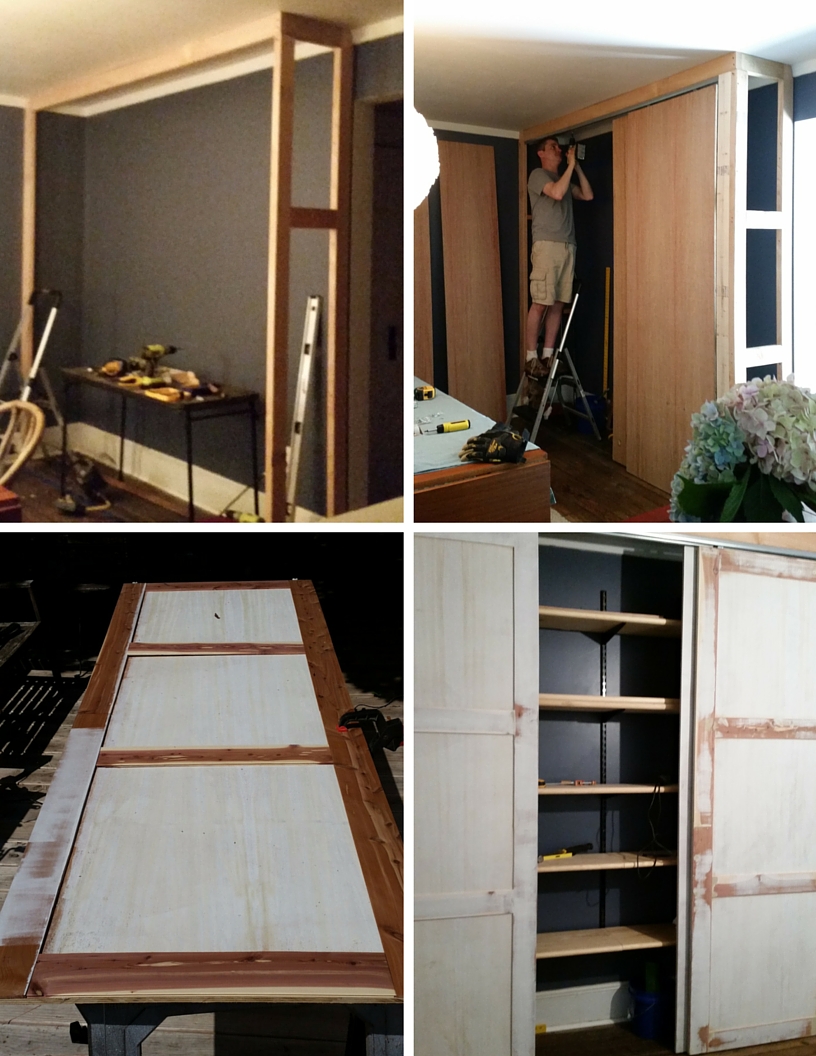 He cut the doors to fit, and then I trimmed them with cedar planks we had leftover from another project. I used wood glue and a brad nailer. Then caulked all the seams and primed and painted.
The side panel was drywalled and mudded. Then everything was painted the same blue as the walls.
And inside:

I've been taking updated photos of the house as we're finishing up ALL of our unfinished projects.  (Literally, our list of work left for the house is officially down to 33 small items.)  So expect more updates in the coming weeks.
Save to home board on Pinterest!
Just hover over the image and click "Pin"