The previous vinyl flooring was light-colored and shiny…exactly the opposite of this floor, so once this hardwood was exposed, a lot more of the light was absorbed than before.  So we're going to need to add more lighting (the lighting should be layered anyway).
I don't plan on staining it.  I love the raw, grayed color, so we're just going to clean it up and seal it with a matte-finish sealer.
This shag rug used to be in the living room…yes it seems crazy to have a white shag rug in a dining room.  We mostly use the dining table as a desk and eat at the kitchen table since there are only two of us.  I think we might have eaten over this rug more when it was in the living room than we have since it's been in the dining room.
The wingback chairs are new too (a Craigslist score).  They are only in here temporarily, as soon as our new sofa comes in (it's been ordered!), they will go across from it in the living room.
We do have one square of plywood where there used to be a floor grate (under the buffet).  Unfortunately, the original floor grates were thrown away before we purchased the house, and they are VERY expensive to replace.  (I showed a picture of the plywood square we had in the living room.  To fill that one, we took the hardwood from the stair landing–that was done when we turned the landing into hidden storage.)  This one…we aren't sure what to do with yet.  Any ideas?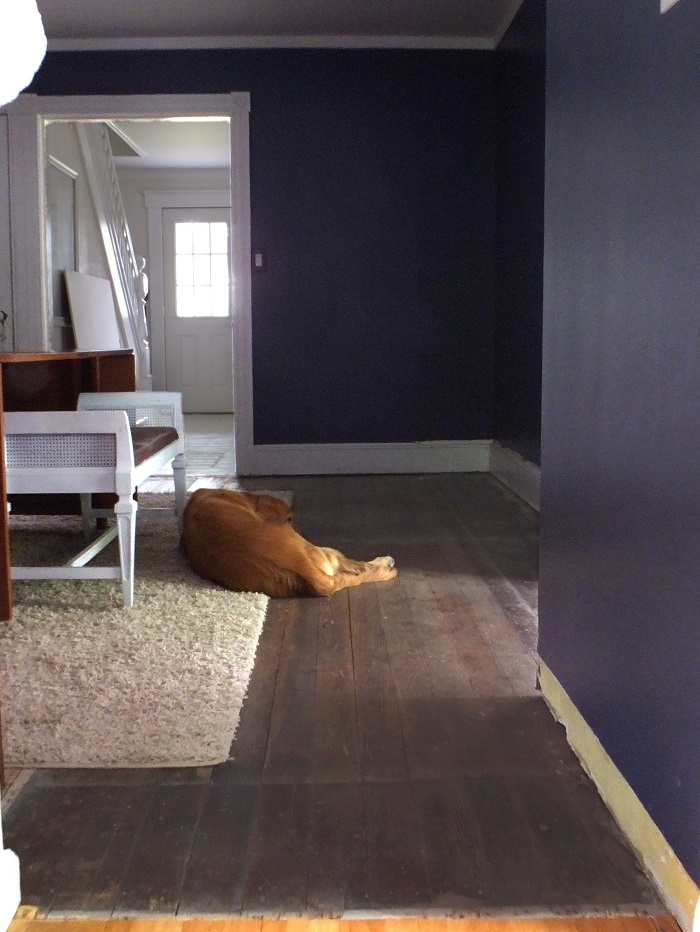 To-dos left for the dining room:
Sand, touch up and seal floor
Replace plywood square
Add more lighting
Buy dining chairs
Buy a new buffet (?)
Add larger crown moulding to match the living room
Add baseboard to 2 walls
Oh, and one more giant project that I can't tell you about yet… 😉