One of the projects we wanted to tackle for our dining room in the $100 Room Challenge was an upgraded dog gate. It wasn't super high on the list of priorities, but it all just came together for only $3.75 so I couldn't resist.
Update: I've gotten a couple irate comments on Pinterest over this gate (even an accusation that I created this so I could laugh when strangers children fell and injured themselves). People claimed that their dogs and/or children would climb it. First: if it's not for you, you don't have to do it! Please move along. Second: we are dog sitters and had dozens of dogs of all ages and sizes while we had this gate and NOT ONE tried to climb it. Two of them put their front paws on top…and nothing happened. Third: if you have that much trouble with your child, you should clearly consider other options. Everyone else: please enjoy this very easy, cheap, and effective project. 😀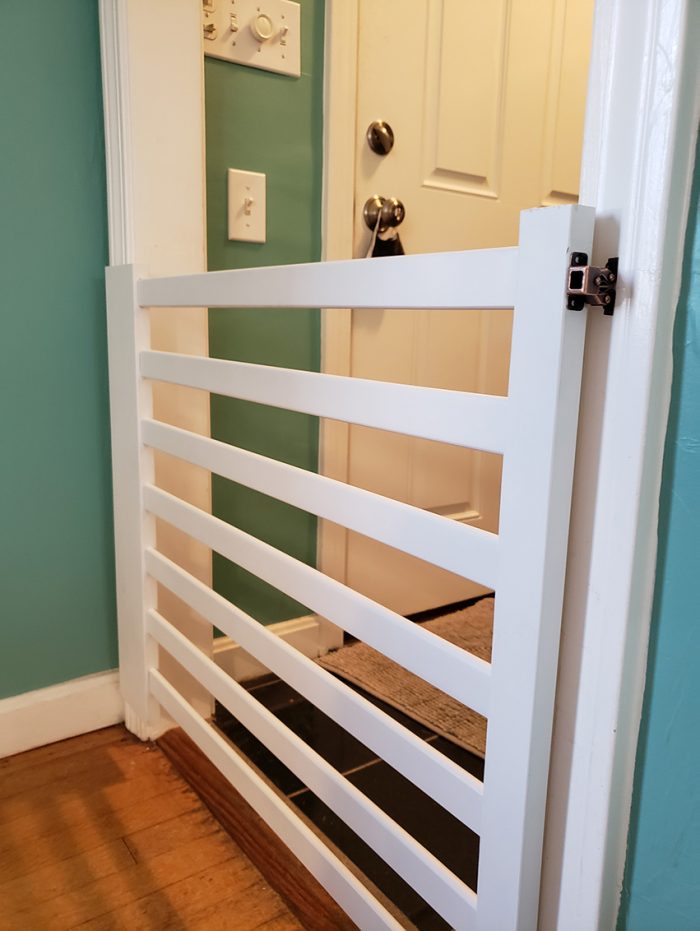 We have a nice little entryway at the front door, but with the dog boarding business, we need a way to keep dogs back and safely inside when the front door is opened.
We have a really nice, fancy baby gate set up, but there are three annoyances with it:
A lot of people trip over it coming or going because it has a bottom piece that you don't really notice, which is terrible (and the most important annoyance).
Guests also always have to ask how to get out, which is also silly to have to do, and unfortunately, they often get a little embarrassed.
It's not pretty.
I actually didn't even notice how unattractive it was until I was taking the "before" picture for the challenge.
Here is the previous one:
And now:
As I like to do when I need to decorate on a budget, I started the project by browsing Craigslist and Facebook Marketplace for free items. Usually I'm looking for things that could be given a cheap makeover, or taken apart for parts to build something else.
Knowing we wanted to DIY a gate, all I saw when I came across a free crib were tons of free gate parts.
This was the crib:
We picked up it, and were super excited when we got home to find out that the side pieces were the perfect size for our doorways! We actually didn't even have to take it apart for parts, just add hinges and a door latch. (I did trim down the two side pieces on top because they were too tall.)
So project breakdown for the new gate:
Crib (FREE)
If we needed to at this point, we would have cut down the parts to fit the doorway, or built it from scratch using the parts.
Spray paint (FREE)
We had white spray paint on hand. It wasn't necessarily needed, it was a nice color, but this one had stickers that just would not come off cleanly, so it needed to be re-finished.
Two hinges ($2.75 at Home Depot–similar here)
One door latch ($1 at Home Depot —similar here)
A bonus of getting the whole crib is that we now also have a (free!) headboard for our guest bed, another side piece that we'll eventually use to add another matching gate to the hallway, and the whole front panel, which we're not sure how we'll use yet, but we'll figure something out!
Oh, and if you happen to find a free or cheap crib online, many of them come with mattresses included, which make perfect large dog beds.
Here is a picture with the other side of the crib for reference. The left is the part "before." So we just turned it on it's side, trimmed the new "top" down and removed the drawer slide.
Another unexpected bonus is that the Roomba can now also vacuum the entryway. Which is very exciting for me.
Other updates we've made to the room so far are actual curtains(!) (also from FB Marketplace for $10), and we swapped out the light fixture.
The light fixture we had purchased a year-and-a-half ago for the family room and didn't end up using it because the light it gave off wasn't enough for the room, so it's been sitting in a closet for all that time. (It's this one from IKEA.)
See more easy DIYs and upcycles.
Check out everyone else's progress in the $100 Room Challenge too!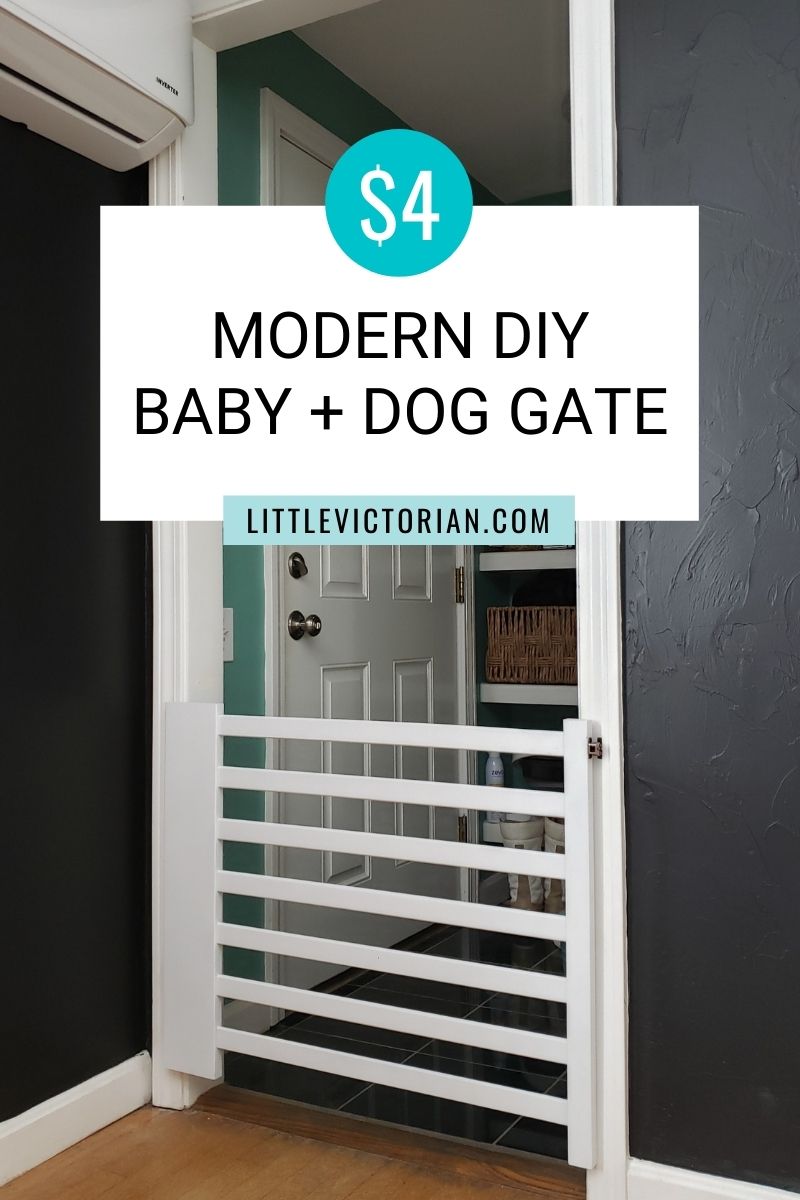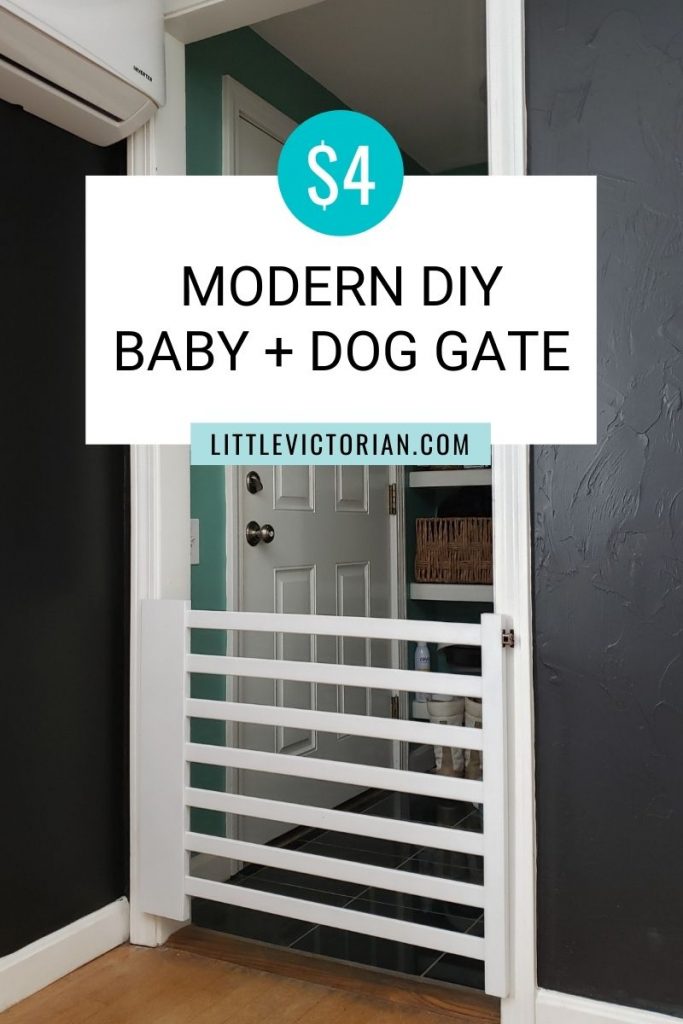 Hover over the image to Pin it for later.