In my last post about our situation, selling the house was a possibility.  Now it's pretty much a sure thing.  I'll talk more about it in the coming weeks.  But for now, I'm going to show you our bedroom decor progress.  It's not at all what I wanted for the space…my taste is too specific and I'm decorating for the general public now.  Starting with a really easy DIY headboard.
I've been on the look-out for the perfect headboard for quite some time. And I haven't found a thing. Right now, that's okay with me though–it's one less thing we'll have to move.
This week, I came up with a temporary faux DIY headboard just to make the bedroom look finished and well-staged. Of course, this could work as a permanent faux headboard too, if it's the look you're going for.
Technically, it's actually no work at all: just buy it and set it behind your bed.
So, it only cost $36.  It's a desktop from IKEA.  I didn't even have to do any installation! It's a cheap and easy DIY headboard. I would like it higher though, so we'll see if there is some simple way I can raise it up without putting big holes in the wall.  (I'm thinking several of the velcro Command Strips?)
Queen size beds are 5 feet wide, which makes finding faux headboards pretty easy, just grab anything that's 5′ across (which is the standard width of a desk).
The other update in the room are nightstands.  I had planned to do simple wall-shelves. But because of the fact that we built the open closet, we know prospective buyers are going to need to see some closed storage.  Apparently, we have simplified so much that we now have to buy furniture to try to sell the house. 
They are the IKEA Rast dressers.  It was SO HARD not to hack them, they are so simple and full of possibilities.  But I'm in a hurry to get the rooms finished, so I just stained them black and put different knobs on them.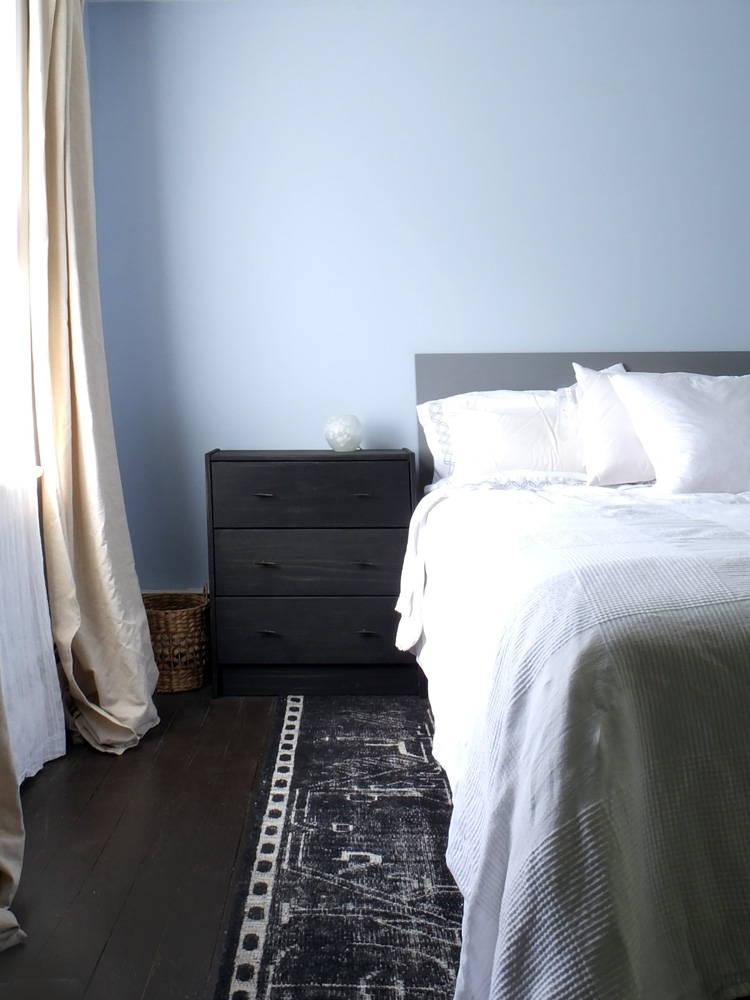 Up next are bedside lamps that I made probably a year ago now, but had yet to set up, side-table styling and pillow covers.
Helpful? Yay! Pin it to come back.
Hover over the image –> and click the PIN button.