Our Roscoe is pretty big.  Even though he is a common breed, he is even larger than most Goldens (85 pounds at his healthy weight–95 if daddy feeds him). 
When it comes to buying things for him, he is considered XXL, which makes things hard to find and expensive.  For our first 3 years with him, we struggled to find him a bed that wasn't ugly and he could actually fit in.  We went through so many "affordable" beds for him, but they would last about 3 months before getting lumpy.  It was time for a DIY dog bed.
Hover over the image to save it to Pinterest for later.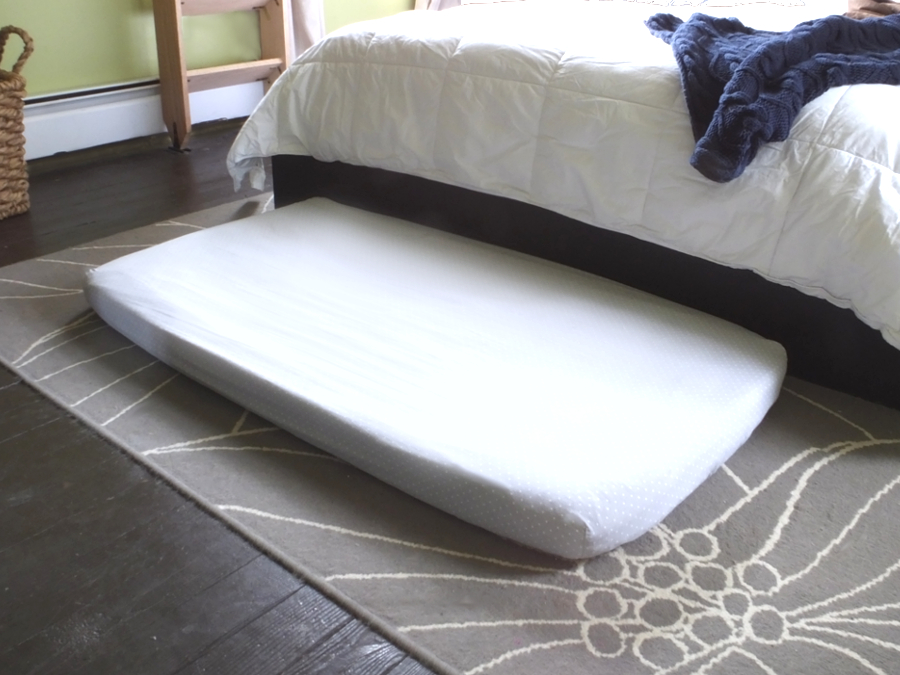 Actually, this can't really be called a DIY, because it's just a re-purpose. But it's a far more effective bed for a large dog than any actual dog bed we've found: it's a crib mattress. Here is our overjoyed model showing off his second, velvety sheet:

At Target, extra-large dog beds start at $80 (lumpy and stinky in no time) and go up to $350 (just, no). Ours is from IKEA for about $35. But you can get very affordable one from Amazon too (and if you're a Prime member, the shipping is free too–if you're not a Prime member, click here to get a free 30 day trial
so you can take advantage of free shipping on something so huge.)
And of course, there are lots of good sheets for under $10. You can use a solid one, but obviously, the patterns are much better at hiding the fur and prints from dirty paws.

(Affiliate links above.)

Not only is the size of the mattress way better than most dog beds, it's far higher quality, it's not ugly and it's so much easier to clean, since it's covered with a machine-washable fitted sheet. For extra protection, a mattress pad is only a few dollars more. Another benefit of the inexpensive fitted sheets is that it takes about 20 seconds to put it on the bed. Putting covers back on actual dog beds usually took me forever (or 20 minutes, whichever happens first)–pretty annoying when you're washing it weekly.
So, there you are: a quality, non-DIY large dog bed for under $40.