The dollhouse flooring is almost finished!
I was going to use paper or paint, but I really wanted something with more texture, so when I saw Joanna's idea from The Project Corner of using real flooring samples, that's what I wanted to try.  I needed far too much flooring to use samples though, so I grabbed three vinyl wood tiles from Home Depot.
They weren't free, but it was still under $3 for all of it.  And if you purchase large tiles instead of samples, they have sticky backs too, so there is no need to glue or tape each piece down!
Because these tiles are parquet style, first, cut out each section down the lines.  Then turn each section over and mark every 1/2 inch on the back.  (Or however wide you want your planks to be–in a typical 1:12 dollhouse, a 1/2 in would be equal to 6″ floor planks in real life.)  Use a metal ruler and cut out the 1/2″ strips.
I used my favorite X-Acto knife for this, it's nice and comfortable, and it's precise and easy to correct if you start going off your line.
No matter which knife you use, you will burn through two or three (or more!) blades, so make sure you have back-ups on hand before you get started.
Once your planks are cut out, I recommend then cutting all the planks to different lengths so you don't have to plan any pattern to lay them in.
A bonus of buying the full-sized tiles is that the back is sticky, so once they are cut, just peel off the paper and stick them in in whatever pattern looks good to you!  Don't worry about them hanging over the edge, once you're finished, just put one thumb on the edge of each plan and snap the overhanging part off with your other thumb.  It's really easy.  I tried cutting them off at first, but it didn't look good and it pulled the planks up off the floor.  Snapping is faster, easier and it gives them a pretty clean edge.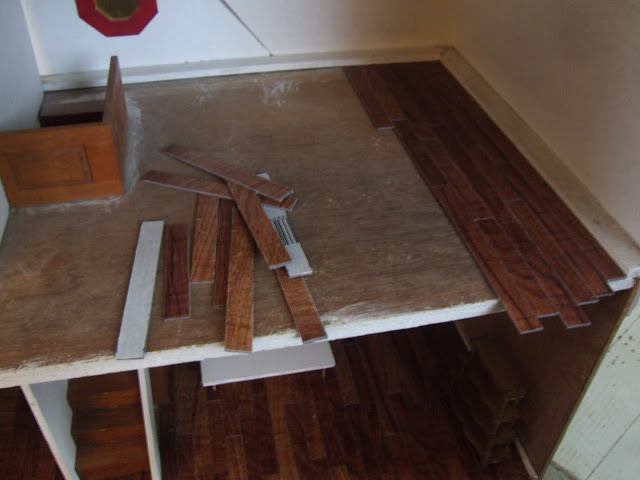 The tiles cut and snap so easily, but they really burn through the X-Acto blades, so be sure to have a few extras on hand.
If you're looking for more DIY dollhouse flooring ideas, I also made a slightly worn "tile" floor out of scrap book paper, Triple Thick, and shoe polish, click here to read about it.