Sorry, I know, it's not first thing in the morning anymore.  But in my defense, when I sat down and got ready to post this morning, I discovered a virus and some hacked accounts…so I've been trying to fix that all morning.
On to the little house.  It's still very unfinished.  There are so many more ideas I had and didn't get to do.  I won't bother mentioning them (I'll try not to anyway) in this post.


It has a new functional knocker and brass knob and plate.
Starting at the top, we have the bathroom:


Oops, forgot to paint the toilet seat last night.
The bedroom.  I added some beams and wired the sconces (currently the only working lights in the house).  Put in a new dresser and bed-side table.


The big old table there is temporary, I didn't have anything else to put in that corner. The cute little dresser is from my sister, and it fits perfectly!
The office is split in "his and hers" sides.  It's hard to see in the picture, but there is a new ombre paint job, from dark on the left wall to light on the right wall.

"Hers"
"His" (Switched sides with the desks and forgot to switch the artwork too, another oops.)
My current favorite room, the living room:
Bare and poorly styled shelves, sorry.
I am pretty happy with the way the "concrete" countertops turned out.
There was supposed to be a bar cart next to the fridge.  Hopefully I'll finish building it soon.
The entry/dining room: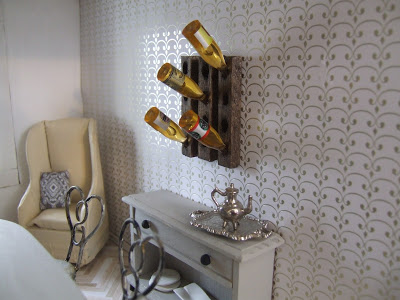 Apparently my little family only drinks white wine.  White wine that's labeled "beer."  (Wine rack inspired by Pottery Barn.)
And I just love the view of the living room from the front yard.
The challenge is over, but I'm going to keep working on it and posting once in a while.