We finally finished our kitchen! In the last post about it, it was being demoed. I was hoping to have project-by-project posts, but instead here's one giant before-and-after post.
We'll start with the After, then the Before from the dining room.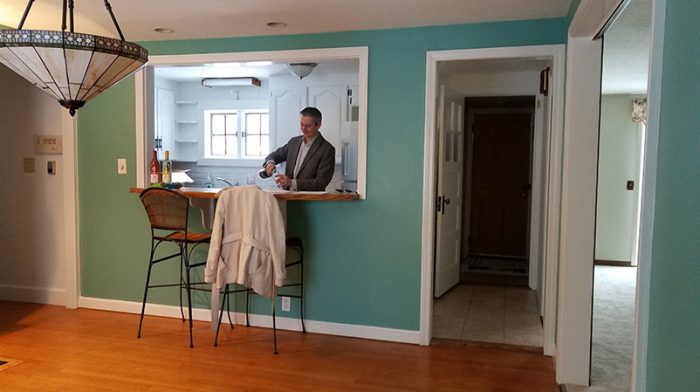 From the living room (after):
And before:
Guys…this one tiny room completely transformed our house. It went from a 6′ wide closet of a kitchen to a place where everyone wanted to (and could!) be.
We were finally able to enjoy cooking together again.
The biggest change was obviously ripping out the wall. We built an island where the wall used to start.
We also swapped fridge and stove positions to further open things up.
The cabinets were a huge score. One day we randomly went into a Restore (by Habitat For Humanity) second-hand store hoping to find some art for the dining room and ended up with "new" kitchen cabinets.
They had been the showpieces at a nice cabinet store…which meant they were never actually used, but it also meant that they had all the upgrades like olive wood drawers, amazing slide out cubbies and baskets, built-in spice racks, tiny bonus cupboards on the ends for small items, and more.
They came in a really nice gray, but while I intended to paint them black (and already had the paint), we ran out of time.
So the cabinets were super affordable, and as we love, we opted for open shelving on top.
The big splurges were the fridge and stove. We went with black stainless steel (since the lower cabinets were supposed to be black).
The island was super fun to do. Since space was really limited, but we needed more storage, we used some of the upper cabinets for the island as they are only 15 inches deep. The Hubs built a base fastened to the floor to attach the cabinets to. Then we used a regular depth countertop which overhung perfectly for counter-height stools.
We put veneer over the sides and backs of the cabinets and then painted them with a custom color to match the rest of the cabinets.
The pantry was a huge change too. I can't currently find an image of what it was originally but…
The door to the right inside the kitchen was a little hallway with a door to the back yard at the end.
When we bought the house, that hallway had three closets in it for pantry-type storage. It was clever, but a lot of the spaces were awkward and because of the doors, things would pile up and get messy in there really fast.
So we gutted it.
We didn't want to take out the walls as well, but they were plastered within an inch of their life and it was just not pretty.
So we took it all down and started with fresh drywall.
I always wanted a butler's pantry, so we built one. And it was so much more functional! It was also a great place to store dry goods, which is always the one thing missing when you go with open shelves for uppers in the kitchen.
The pictures aren't that great because it's such a tiny space (and we left in such a hurry), but there were two full lower cabinets and one extra large upper hanging above them. Then we had more open shelves, and an open section underneath for a trash can and rain boots.
We didn't keep detailed records, but including the splurge on higher-end appliances, we estimate it at $15,000. The biggest costs were the appliances and then the building materials. The wall we ripped out was load-bearing, so we needed to put in a lot of quality materials and care there. Otherwise, the cabinets were second-hand, and the countertops and shelving were IKEA. The flooring was peel and stick from Home Depot (we had to put down fresh base first). The sink and gold faucet were from Amazon.
So there it is! Our 2-year-in-the-making kitchen makeover!