A few years ago when we were in our rental house before we did much DIY, I had a paper chandelier from IKEA that was plug-in and I wanted it over the dining room table. The Hubs told me it was easy to convert a plug-in light to a hardwired light. But I knew less than nothing about electrical work back then and just the thought of that to me was scary.
There really is nothing to be afraid of though.
You'll just need three things:
Your plug in light-fixture
(This light fixture is just a spray-painted simple, $8 utility lamp, similar to this $215 version. Read how I transformed it here.)
A utility knife
A pair of wire strippers
(Those are affiliate links.)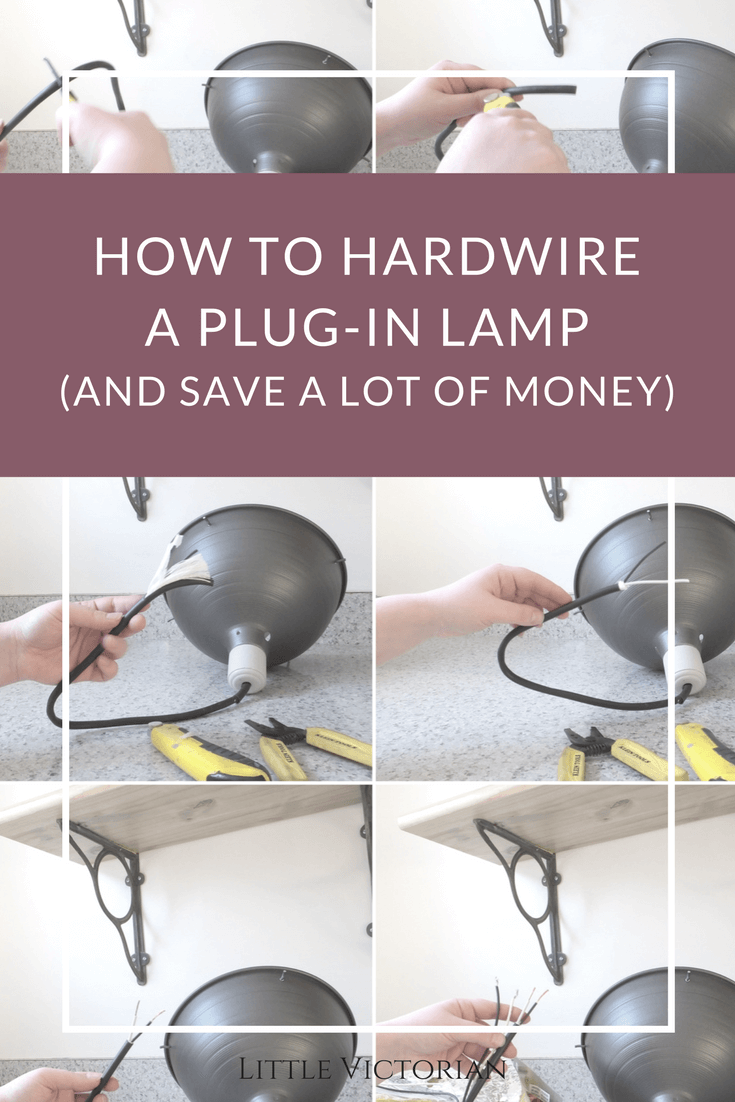 Here's how to turn a plug-in light into a ceiling light:
1. Measure how long you'll need your cord.
Hold your light fixture up to the ceiling and measure the length of cord you'll need from there. Then add about 6 inches to that length and cut your cord there.
2. Cut off the outer layer of insulation.
Using your utility knife, cut the outer layer (insulation) off about 5 inches down from the newly cut end. Make sure you're cutting through the outer layer only and not the wires inside!
You'll now have lots of fuzzy strings and paper exposed–like in the third picture above. Cut all the paper and strings away at your 5″ mark, leaving only the inner black coated wire, the white wire and a copper wire (if there is one).
3. Cut the outer layer of insulation off of your black and white wires.
Using your wire cutters, cut off the black and white coatings from your inner wires. You only need about a half-inch of the copper wires exposed.
Be very careful not to cut into the wires, only cut off the insulation. If you're not sure which gauge to use on your wire strippers, start with the larger holes to be safe and work your way down until it cuts through the outer layer.

That's it! Your plug-in light should look exactly like a hard-wired one. (See the comparison in the last photo above.)
I'm not going to tell you how to actually install the light, because that has the potential to be different with each house. Stephanie at Brooklyn Limestone has a great photo tutorial for actually replacing the light. But I will add one tip: before you disconnect the old one, get your phone out and take a picture of how the wires are connected, especially if you live in an old house (you never know if something is wired in an…unconventional way).
One major benefit of turning a plug-in light into a hardwired one is that a plug-in is often far cheaper than a ready-to-go hardwired one. They are way more customizable too, and it only takes about 5 minutes to transform the fixture!
You can see this one in place hanging from the ceiling here.