As much as I looove Ikea, I don't love when you walk into a room (or drive down a street) and can easily say "Oh, that's from Ikea" about something you're seeing.We have had their super-affordable, cute and versatile Tarno bistro set for a couple years now and we love it.  The set of table and two chairs only cost $50 total in the first place, so it's a steal.  But, we were ready for a change.  All I saw when I looked at them was "Ikea!"  We like the Ikea Tarno painted so much better than the raw wood-look.
So, as you've seen, here is the set before I painted it:
It's a terrible photo, sorry.  I assumed that I had lots of good "before" photos before I started painting.  Well, I didn't…
Here it is now: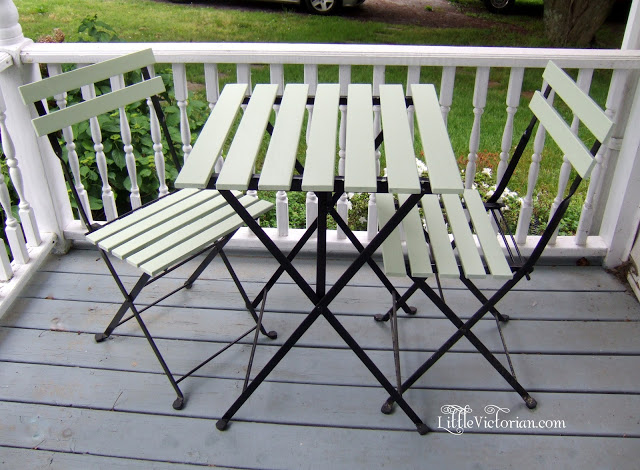 It's pretty cool how much more modern and fresh it looks.  All it took was sanding, painting and sealing.  So easy.
Here's how I recommend painting the Ikea Tarno:
Give it a light sanding, whether it's new or you've had it a couple years like us.
Wipe it down with a damp lint-free cloth.  (We LOVE these towels and use them for this, and so many other things around the house).
If you want it to last a long time, put a coat of primer on it.  Or if you're like me and always too impatient excited, go straight to painting.
Paint the insides and ends of the wood slats with a brush.  Then roll the paint on the surface with a small foam roller.
Regarding which paint to use: I had leftover interior paint in this mint color, so I used that and then followed it up with a coat of sealer so the paint didn't peel off.  If you use exterior paint, you won't need to do seal it.
Celebrate how easy it was to make such a big difference.
This is our favorite way.  We still have more to do on the front porch, but it's nice for now to have such a big-impact tiny project done.
I was actually nervous before painting and almost backed out a few times.  I had no idea what to expect with just the wood being painted.  I was afraid it might be way too feminine and cute, but it was way more modern-looking than I imagined.  We're so happy with the way it looks painted.  Hopefully this weekend we'll have the porch a lot more finished.
P.S. I will be back tomorrow for a rare Thursday post with a few more notes on and photos of our other self-watering planters.
---
Update: Click the picture to see the finished front-porch.