Ready for the kitchen before and after?  Here is the before–not terrible, but not what we wanted:

And here is what it looks like now:
We love how open and simple it is.  And it's the perfect balance of masculine and feminine for us.  (And not at all preppy.)  The handmade iron brackets give the perfect feeling to the room, like they have always been there and this is how the room was meant to be.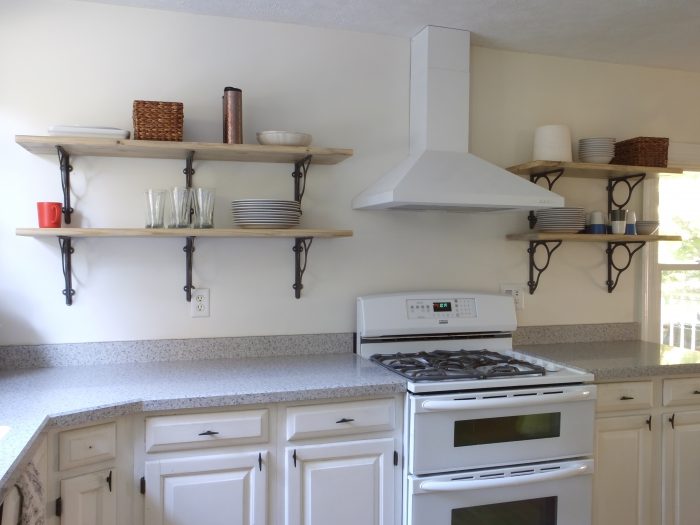 The breakfast area still has a few updates to be done: window coverings, new chairs, and a light fixture to replace the ceiling fan.  But those are quick and simple fixes.
Here's the before, and after again.
I really am excited about it every morning when I walk in there.  And a big bonus: putting dishes away is really easy, as is getting ready for dinner.
Aside from the range hood, the only things we had to buy were the brackets, shelves, paint and stain, and all that cost about $250.  (The iron brackets are from Anthropologie, and the shelves are stair treads from the DIY store.  The wall color is Martha Stewart's "Tailors Chalk" in Behr paint.  You can see all of our materials choices and progress along the way here if you're interested.)  And it was a pretty simple DIY.  Not bad for a completely new-feeling kitchen!