We have new lights in the kitchen. Behold, our DIY industrial pendant lamp: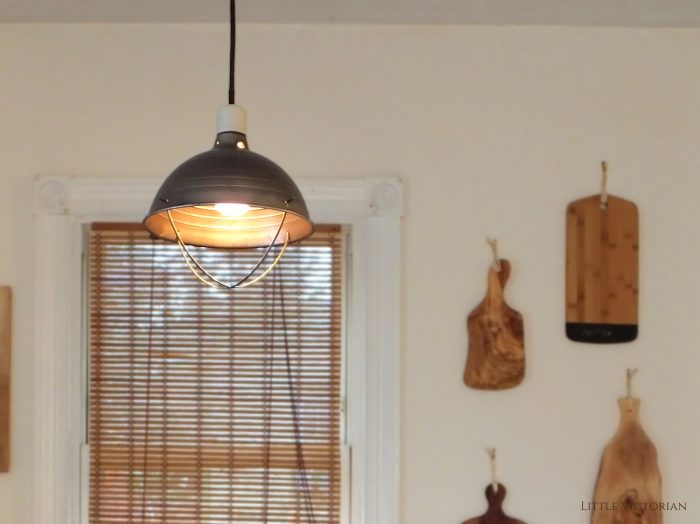 We finally took down the big old ceiling fan over in the breakfast area and added this industrial-looking light. We have a matching one over the kitchen sink to, which you'll see soon.
This is SUCH an easy DIY. All they are are modified work lamps from Lowes. Or like this work lamp on Amazon.
In addition to the lamp, you'll need:
Time needed: 1 hour and 30 minutes
Here's how to make your own cheap industrial lighting:
Remove the clamp

This is super easy, it just unscrews.

Lightly scuff up the metal with fine sandpaper

Just scuff enough so the spray paint will stick, not enough to have visible scratches. Be gentle, it's easy to scratch this thin metal.

Spray paint the lamps.

I used and recommend Rustoleum's Metallic Iron.
We're going to paint both the inside and outside. You can put the cord in a plastic bag if you have one and then use painters tape to seal the bag at the base of the lamp.
I like to stuff some paper towels inside the light socket, and then put painters tape overtop of that just to be sure no paint gets inside there.
Then spray with very light, steady strokes. It's better to have several very light coats than just one or two thick ones.

If you're using this as a plugin lamp, you're done!

Just plug it in and hang it up. You could use cup hooks to keep the cords in place.

Replace your current ceiling light

Head over to this post for the very simple instructions for how to turn this plugin lamp into a hard wired one.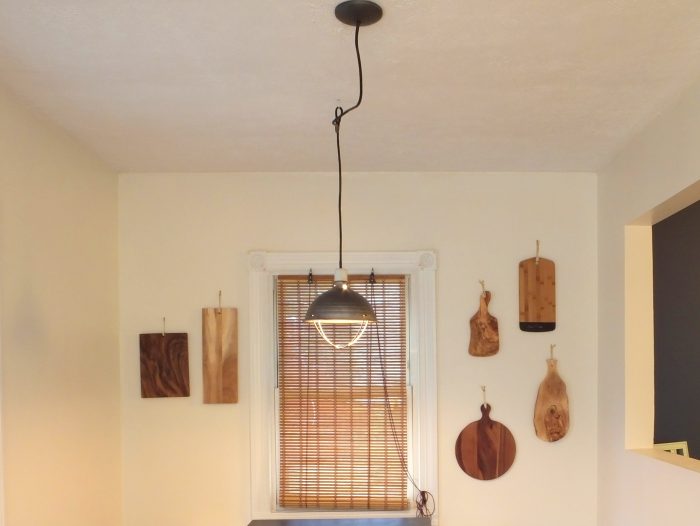 The best part was that the lamps themselves cost $14 each. The new canopies for $3 each. And then the can of spray paint was around $8. So for $21 each, we have new industrial-looking lights in the kitchen.
Of course, as everything in our old house, the ceiling fan was off-center to everything. And we didn't want to do any re-wiring of the house at the moment, so we just draped the cord into place and hung it from a screw hook in the ceiling that was centered over the breakfast table. The cord was a little stiff and didn't want to drape nicely or hang straight down since this light fixture is so light-weight, so we tied a very loose knot at the point of the drape and hung it from that. It goes very well with the industrial-look, but might not look as good with other styles of lighting.
Way better than the ceiling fan, huh?
Many of you might know how to turn a plug-in light fixture into a hard-wired one, but before we started doing electrical work in this house, I had no idea how simple it was. In fact, even when the Hubs said it was an easy thing to do, I was too afraid to have him do it for me. So, for those of you who feel like I did, read how simple and non-scary changing a plugin light fixture into a hardwired one is.
Some other DIY lighting we've done:
Save this to your DIY board!
Just hover over the image and click "Pin"