We have new lights in the kitchen.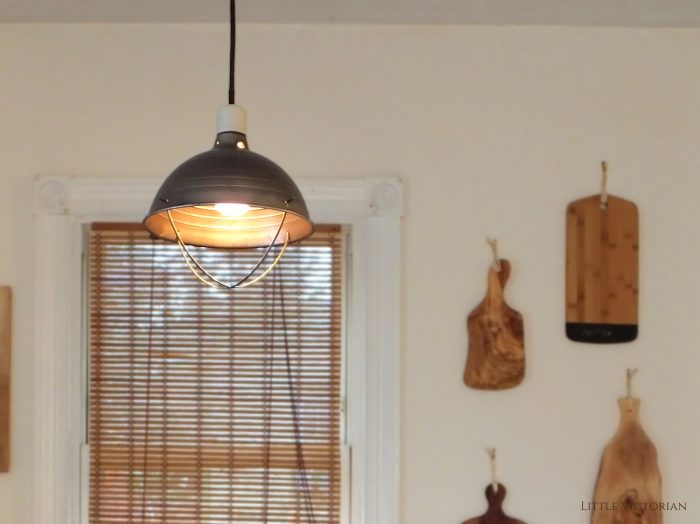 We finally took down the big old ceiling fan over in the breakfast area and added this industrial-looking light.  We have a matching one over the kitchen sink to, which you'll see soon.
They are just modified work lamps from the home improvement store, similar to this
.  I removed the clamp and scuffed up the metal with fine sandpaper, then spray painted the lamps with Rustoleum's Metallic Iron
to match the shelf brackets.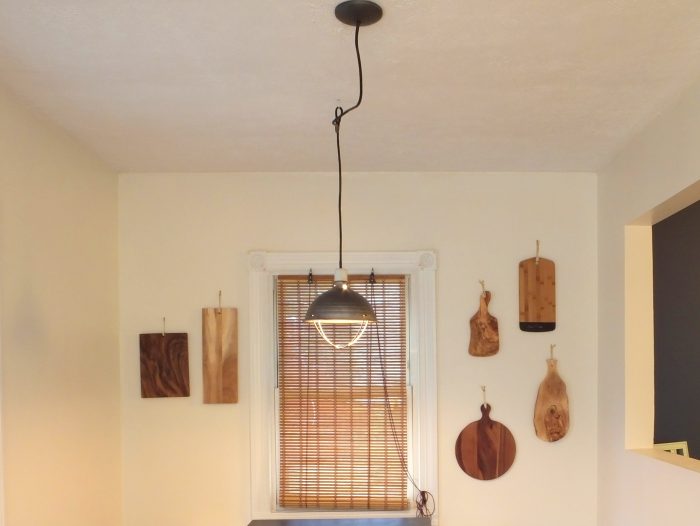 The best part was that the lamps themselves cost $14 each. The new canopies for $3 each. And then the can of spray paint was around $8. So for $21 each, we have new industrial-looking lights in the kitchen.
Way better than the ceiling fan, huh?
Many of you probably know how to turn a plug-in light fixture into a hard-wired one, but before we started doing electrical work in this house, I had no idea how simple it was.  In fact, even when the Hubs said it was an easy thing to do, I was too afraid to have him do it for me.  So, for those of you who feel like I did, there will be two posts coming up to show you how simple and non-scary changing out fixtures (and turning plug-ins to hard-wired) and light switches are.
I'll be taking the rest of the week off from writing, but will return on January 3rd.  Have a great week!
Christina