Our MCM (the Prairie house as we call it), was our dream house. We even considered getting the blueprints from the original owner's son so we could re-build it when we moved. (But with our mobile lifestyle, there wouldn't be enough time for that!)
The Story
To recap our MCM story: we purchased it for a STEAL back in the mid-west. (The local real estate office literally didn't know what a mid-century modern was and just called it a "unique" property. They thought the real selling point was the view of the farm across the street.)
We intended to start restoring it right away, but 6 months after moving in, the job that moved us out there very unexpectedly ended. After 3 years of job struggles in our dream house, we were only able to get small (to us) projects done.
When the Hubs job offer came through from New England, we had ONE MONTH to pack, start and finish projects like replacing laminate flooring, a minor kitchen reno, bathroom reno, and then put it on the market and move.
The MCM Living Room
The Dining Room
The movers had already come and packed up most of our stuff by the time I took the listing photos of the dining room, office, and kitchen, so it was a little prettier with our own stuff, but you get the idea here: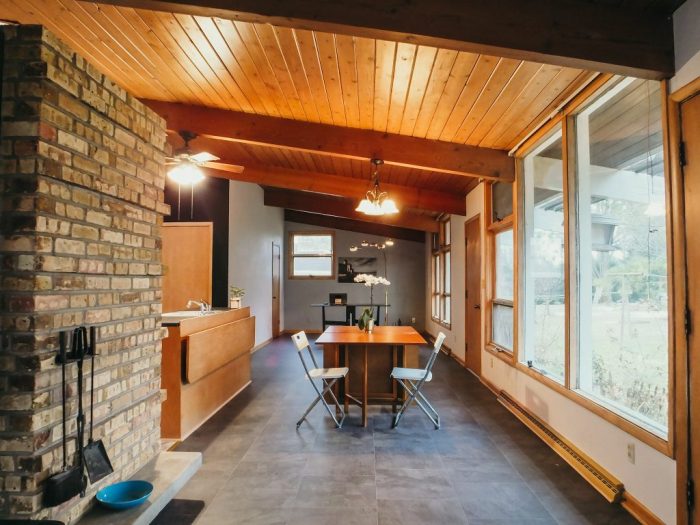 The MCM Kitchen
The house still had the original wall oven and stove top, and we still used them until our last month in the house. We wanted to replace them individually, but time and money didn't allow.
So we turned the spot next to the fridge where the wall oven was into another cupboard and put our very nice KitchenAid range (that I miss very much) in.
We purchased the matching dishwasher and fridge when we moved to the area. (In case you'd like to know, we liked the range–though it could have been better, loved the fridge, h-a-t-e-d the dishwasher.)
They all sure looked good though.
This was a built-in desk with peg board off the kitchen that we turned into our coffee bar and recycle center. Perfect height for a shorty like me. 🙂
The Office Area
This was at the end of the dining room. (You can see it was before we put the new floors down!)
The MCM Master Bedroom and bath
You can read more about that here.
The Guest Room
Unfortunately, we did nothing to the guest room, not even paint.
And the Main Bathroom
You can read more about that here–the before was CRAZY.
Some "Before" Pictures
You can read my first post about this house here.