But first, an update on our houses: there is no update on the Victorian.  Sadly, it still belongs to us.  And we are still loving the new house.  There is considerably more work to be done than we originally thought, but we're happy about that; it will be fun.  So far, we've just done minor things like paint, but we have been making plans and pricing the bigger projects.  The next post will be introducing the new house.
Several months ago, we visited my parents again.  As our yearly tradition has become, we redecorated a room in their house.  This year it was Dad's office.
The office was not meeting their needs at all.  Mom has been simplifying over the last couple years, but they hadn't gotten to the office yet.  So before our visit, she and I got on Skype and made a plan for her to clean it all out before we arrived.
She did an awesome job and we arrived to an empty room that dad had just finished repainting.  The old furniture was sold on Craigslist and new furniture was picked out before we got there too.
Since it's dad's office, I wanted his desk in the center of the room as the focal point.  He uses a tablet instead of a PC, so we didn't even have any cords to try to hide.  Also, since they had gotten rid of most of what was on the bookshelves, they didn't need nearly that amount of storage space.  I had been looking (unsuccessfully) for new, smaller and better-looking bookshelves for them, but dad surprised me and built the new ones.
The photos aren't good…sorry. 🙂
Yes, that is the same room.  As you can see, we didn't have enough to fill the bookshelves at this point.  We also hadn't found replacement office chairs yet.  The drafting desk is from World Market.  (Similar, but not quite as good-looking here if you don't have a World Market).  While they had the desk in stock, I suggested asking for the floor model at a discount since the surface was scratched.  He did and they gave it to him!  The wood had more green undertones than he wanted, so he refinished it when he got it home to this richer, less trendy color.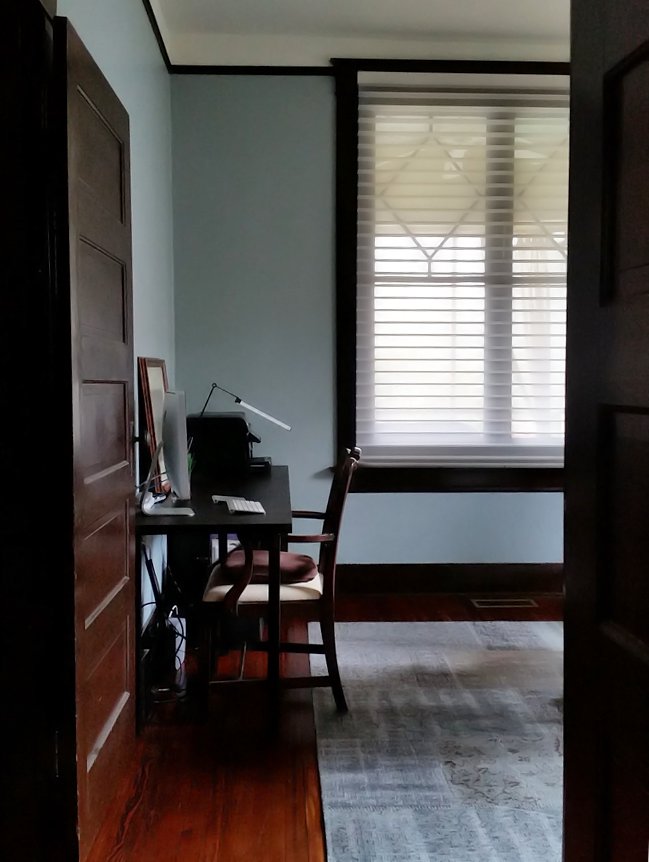 We got a long and shallow desk for mom and put it where the old giant bookshelf used to be.  They went for the build-your-own IKEA system with a filing cabinet on one end and two legs on this end.
Dad wanted a comfy place to sit and read, so the comfy chair came in.  They are considering updating it with one that matches better in the future.
The last night we were there, we stopped at a Restoration Hardware outlet store and found the perfect new desk chairs for both of them.  (Didn't realize my camera was out of focus, and I only got the one picture of mom's new chair, but you get the idea.)
Here are the before and after pictures together for perspective: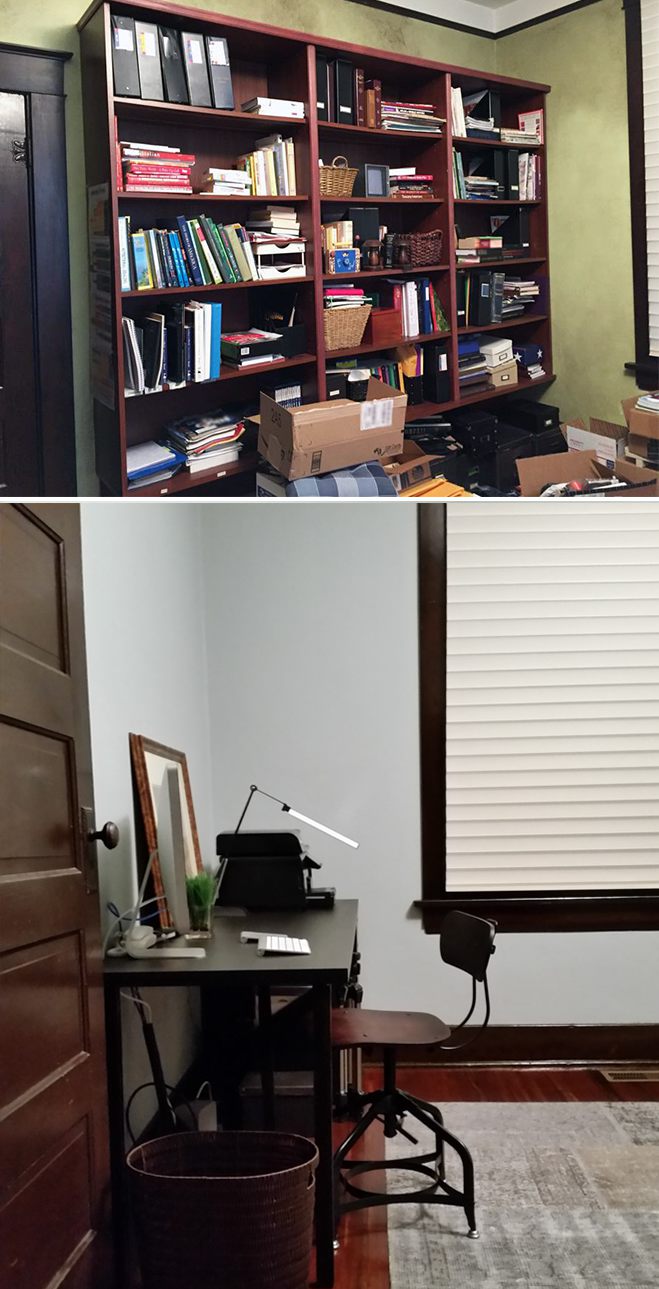 I'll be back on Thursday with some photos of our new Craftsman!