12 years ago, when I was a young, single woman, I had the amazing opportunity to go to South Africa.  Everything about it was awesome.  I brought back tons of treasures.  So many, in fact, that my friend and I had to stop at a luggage store on our way to the airport to buy additional suitcases to get it all home.
One thing I brought back was this hand-carved chess set.
I purchased this in a tiny second floor studio in a little town.  I purchased it even though I don't (and don't have any desire to) play chess, because it was gorgeous and full of character, and from South Africa, and very affordable.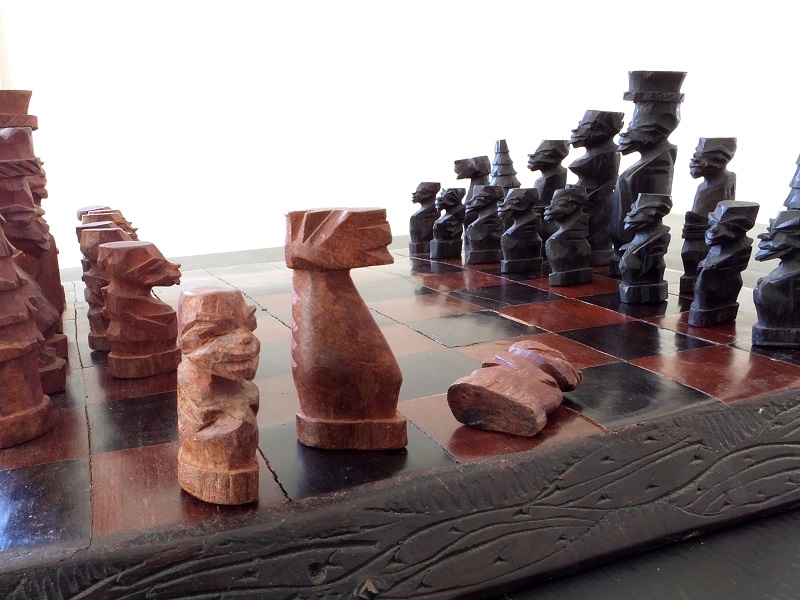 If it were the only thing I had purchased to bring home in South Africa, I would be keeping it.  But it's not.  Yes, it will be the latest victim of our simplifying.
Don't get mad at me.  It will be going to a better home, where it will be appreciated and admired and hopefully on display and used.  Here at our house, it sat in a box.  While I would love to have it on display, the pieces fall down too easily, and can you imagine dusting that regularly?!  I'd settle for using it occasionally, except, I don't like the game of chess.
So, instead of putting it back in the game chest where it will be neglected and take up space, we are donating it to our church's silent auction.
The decision was easy.  But following through was not.  We set it up one last time and admired it and waffled a little bit, but we packed it up.  It will be handed off this weekend, and it will be hard.  But we have no reason to keep it.  I'd much rather someone have it that is going to enjoy it.
Besides, I do have other beautiful, hand-made treasures that I brought home and still use all the time.
This decision had nothing to do with our simplifying game, by the way.  But you can be SURE that I am going to count it.  Now the only question is, how many items does this count as?  Normally I'd say one, as it's a package deal, but I think I should get some bonus items since it's so special.  What do you think?