I'm short.  Really short.  5 feet even, actually.  With 20+ years of practice, I can get around just find in a world built for people significantly taller than me (unless there's a glass item I need on the top shelf at the grocery store–I still haven't figured that one out).
But there is a disadvantage to my lack-of-height when it comes to homekeeping: I can't see the tops of shelves.  I can reach the tops, I just can't see them.  They do all get dusted regularly, but if I miss something, I won't have any idea.
So because I can't see the piles of salt and pepper our salt and pepper grinders were leaving behind on the shelf, I didn't realize we needed some sort of tray under them all this time.  I thought for a couple days about how to get/make an itty bitty tray to put under the shakers, but I was blank until we went to Crate and Barrel for some rug shopping.  They had these pretty slate trays.  But I didn't need to buy one, because we have piles of slate slabs and fractions of slabs that we've been pulling out of the dirt in our yard for the last 4 years.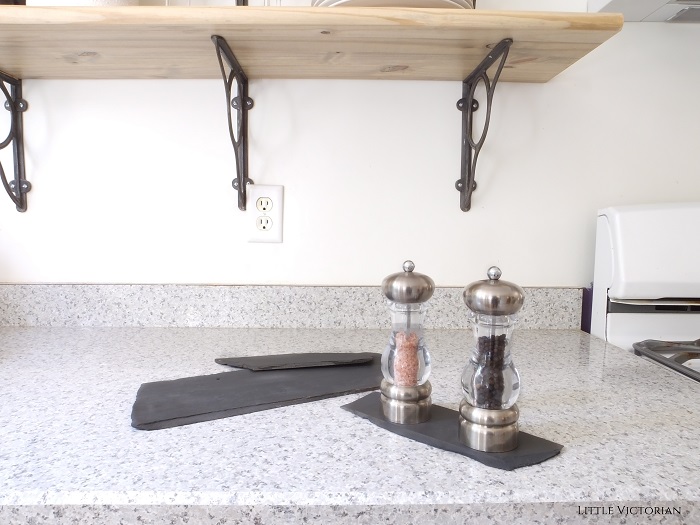 Why is our yard filled with pretty, ready-made slate trays?
This house originally had a slate roof, and when the previous owners put a new roof on, they just tossed all the slate tiles into the yard where the ground swallowed them up.  Every once in a while, the yard regurgitates one for us.  I've been saving them because I knew there had to be something cool they could be used for.  Finally, after 4 years, I realized they could be used as cheese plates, platters, trays, or to save our shelf from the salt and pepper.
PS: If you don't have a front yard that spits out free slate tiles for you, you can get them cheaper on Amazon than at Crate and Barrel:
(affiliate links above)