Looong absence, huh?  I've been working on a few small projects, but we've just had a really, really busy summer.
I finally finished patching and re-painting the bathroom ceiling.  For a couple years, it looked like this:
Shameful.
But you know, you get used to things like holes in the ceiling pretty quickly and just forget they're there.  The hole was there because we had to fix some electrical work.  Then for a few months, it looked like this:
And in the mean time, I got SO tired of patching drywall.  That has been one of my least favorite parts of fixing this house up.  I was also testing colors on the wall there.  The darker color is what we ended up using on the ceiling (it's the same as the powder room) and we painted the walls our favorite white.  Now it looks like this: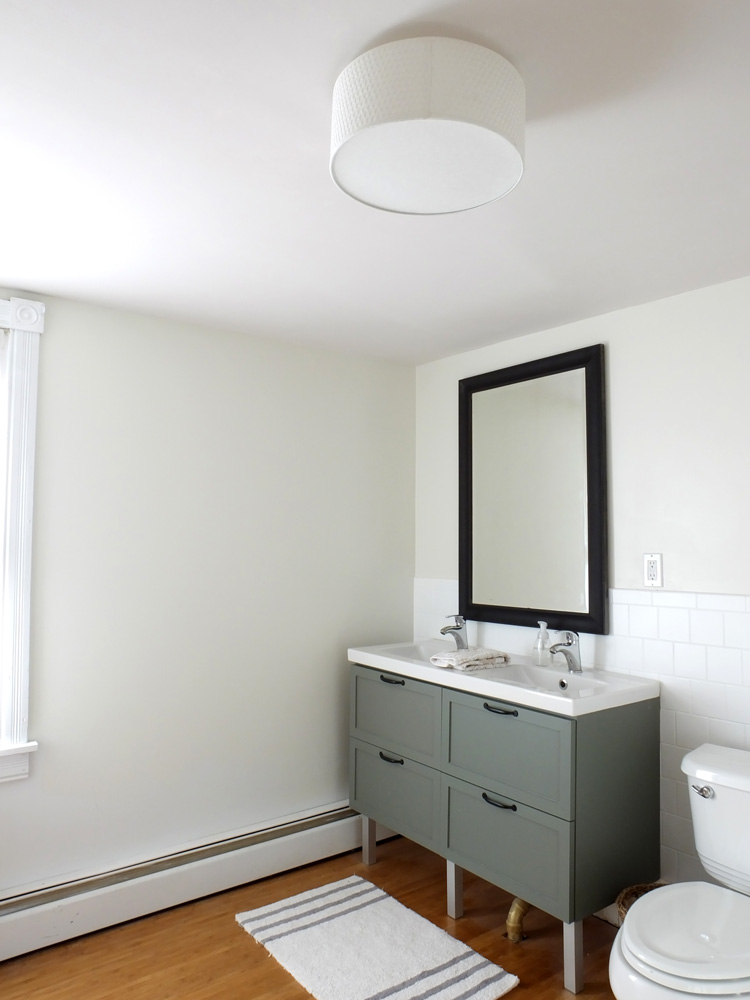 It feels good to have it finished! (If you missed it, see the practically free and dramatic vanity makeover here.)
We also hung the mirror back up vertically after I painted.  It's a long story that I'll tell you in the next chapter when we actually get this room done.
Here's a reminder of the before, just because it's so different:
Also, something big happened this week too: the Hubs' company downsized and he lost his job.  The chances of finding new work in this area are pretty slim.  Which means, our work on the house might turn from fun things into finishing projects to getting it ready to sell.  Either way, it might continue to be quiet around here until we get settled again.
Unfortunately, this also means I will not be able to host the Undersized Urbanite contest this year.  The time and resources just aren't there.  I'm really bummed about it, but it's just not possible.
I'll be back as soon as we have either news or another finished project!