The upstairs hallway floor has finally been stripped.  But unfortunately, as I suspected, there is water damage.  (Apparently there was a leaky roof at some point before we bought the house.)
Here's a reminder of what the floor looked like after we pulled the carpet up:
Spots and splatters everywhere.
I decided on a paint stripper instead of sanding for two reasons:
I LOVE the texture of our old hardwood.
With all of the layers of stuff on these floors, sandpaper gums up in no time, which causes you to throw away dozens of sheets of otherwise perfectly good sandpaper.  (I tried it in the living room–awful.)
So, for stripping the hardwood without sanding, I used my trusty Citristrip
(not sponsored), just like I did on the stairs.  It's easy to use and the fumes aren't too bad if you keep the windows open.
The instructions say to put the Citristrip in a metal bowl and use it from there.  If you're stripping a flat surface, it's an unnecessary (and wasteful) step, I just squeeze it right from the jug onto the floor.  Brush it out with a chip brush
.
I left it there for anywhere from 30 minutes to a few hours, depending on how badly spotted the section was.
After it sits, scrape it up, and most of the varnish, paint, drywall mud splatters along with it.  A plastic scraper is really what should be used, but I didn't have one, so I VERY CAREFULLY used a metal putty blade.
I definitely recommend using a small cardboard box to scrape all the gunk into (shoebox-sized, only thicker, because it the liquid will seep through).  You'll want something sturdy, and there will be A LOT of gunk.
After the majority of the stripper was up, I wiped the area with a few paper towels to clean up the puddles that settled in the grooves of the wood.  Then I followed with a very light, very gentle scrubbing with a plastic brush, which will get the varnish and paint out of all of the dents and grooves that the scraper couldn't reach.
Even after the scraping and the wiping with paper towel, my brush looked like this every time:
Ew.
Follow that with one more round of wiping with paper towel.  Once all the visible stripper is up, mineral spirits need to be applied to neutralize the stripper and clean the area.
Wet some paper towel with mineral spirits and wipe.  This job requires at least one roll of paper towel.  Keep wiping with fresh towels until they no longer come up dirty.  This could take some time.  Quite a bit of time.  I turned on a Pandora comedy station and made myself comfortable.
In the end, we had this:
Eh.  Unfortunately, this is only "Part 1" because of the water damage.  None of the boards are rotten or so damaged that they need to be replaced, but the coloring was left very spotty, and the grain of many of the planks is raised significantly.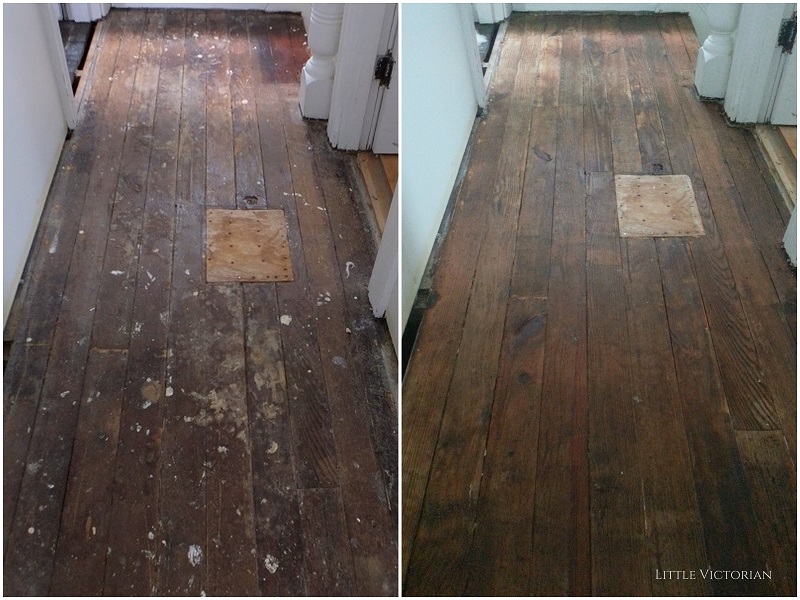 Part 2: sanding, coming soon.