It's the last post for the $100 Room Challenge! Sadly, we didn't quite finish the makeover yet. 🙁 We searched the house for an hour and couldn't find the hanging kit to hang the mirror. I was also hoping to put up two small shelves next to the mirror to balance out the off-center mirror and sink.
We were actually going out of town, so we only had just under 3 weeks to do it all in, BUT I'm pretty happy that all that didn't get done was hanging the mirror and shelves.
So three weeks and $96 later, here is our powder room makeover:
Here is our cost breakdown:
New light fixture, Menards clearance (!) $30
Mirror, IKEA $20
Paint, Menards $1
Contact paper, Amazon $10
Floor tiles, Menards $19
Cabinet knobs, IKEA $15
Seal for cabinets, $0 (already had)
Shelves (still to be put up) $0 from scraps we have
Total: $96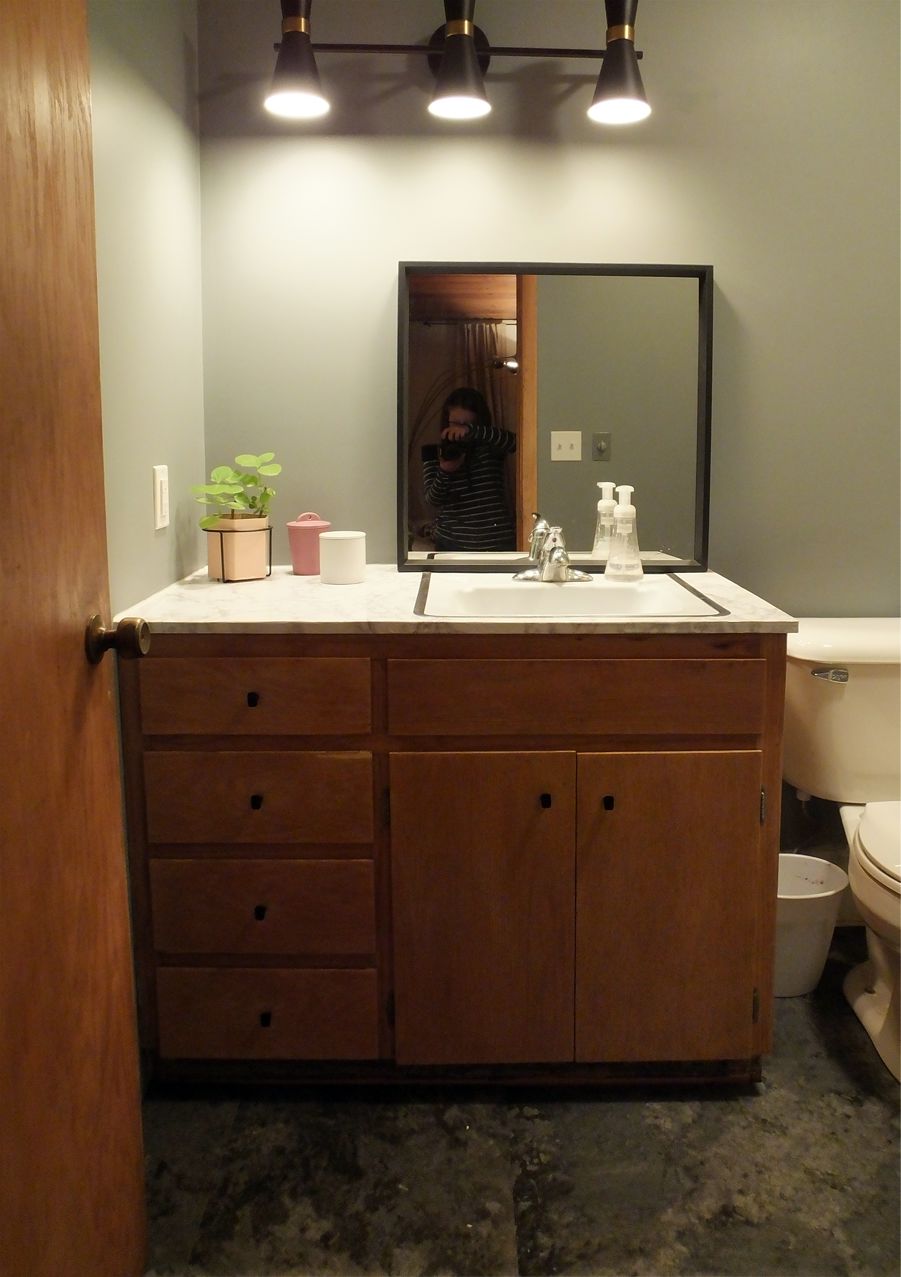 We also had the setback when we discovered the rotted subfloor, so that took time, and cost about $10 for the new plywood, but I'm not counting that towards the decorating.
To start from the top:
The walls were repainted
The light fixture replaced
The mirror replaced
The backsplash removed and counter lip removed for a more modern look
The counters covered in marble contact paper
The vanity sanded and sealed
New knobs on vanity
Old vinyl flooring pulled up and new peel and stick vinyl tiles put down
We were happy to find the slate-look tiles because slate is something that was often in mid century moderns. Staying close to the originally intended style is very important to us.
If you've never used the peel-and-stick floor tiles, let me tell you…they're super easy and super inexpensive. And we're always way happier with them than we expect to be. As much as we don't like synthetic materials, sometimes, it's just the best option.
We also didn't get the cabinet pulls we were planning on. We wanted tab-style that is much less visible, but IKEA only had 4 in-stock and we needed 6, so we had to switch styles to get it done in time.
Here's the before and after:
I'm SO thankful to Erin for hosting this challenge! There's no telling when we would've gotten the powder room done without it, and we definitely would have ended up spending more without the goal of staying within $100!
Here is how the other ladies finished, go check out everyone's great work!
Here are the process posts:
Oh, and we did end up having time to put the shelves up that I was dreaming of before we had to put the house up for sale, but we DID get the mirror hung. 😀
Pin it for later!
Hover over the image <– and click the PIN button that pops up.