Last week, I mentioned a couple changes in the kitchen that I was going to talk about, but something I'm way more excited about came up. We spent part of last week in Lyon, France. The whole trip was awesome, but the one thing I couldn't wait to share with you was a particular museum that the Hubs found in the "old city."
I didn't get a good picture of it, but the outside was lovely. But what was inside made me just giddy. It was a miniatures museum.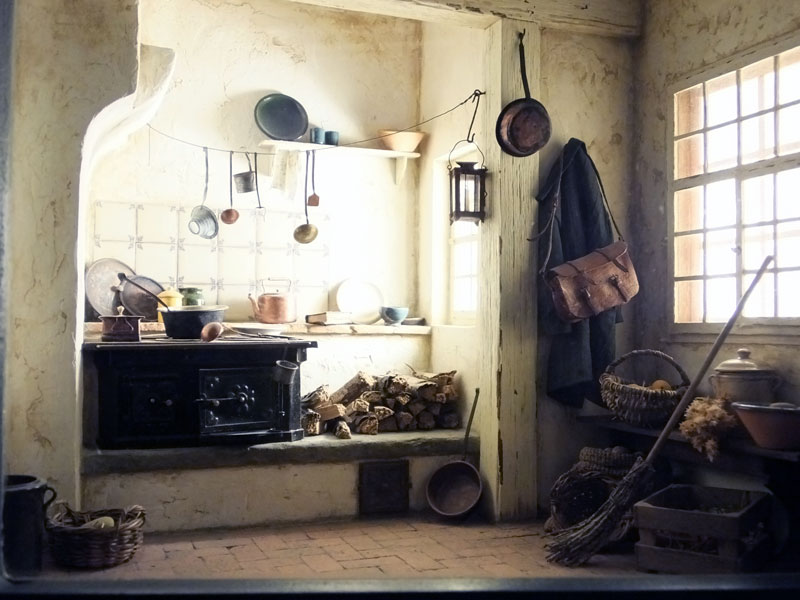 For those who aren't too familiar with miniatures, the size can be hard to picture. If these rooms were life-sized, most of them would have 9 to 10 foot ceilings, 1/12 scale means that 1 inch is equal to 1 life-sized foot, which makes these rooms about 9 to 10 inches tall–or about the height of a butter knife.
(FYI: I walked all around my house this morning with a ruler trying to find a relatable item that was 9 to 10 inches tall–it was surprisingly difficult, hence the butter knife comparison.)
Or maybe more relatable is that a gallon jug would be about the size of your thumbnail.
I really loved this little studio.  The details were amazing:
(Photographing miniatures behind glass is hard.)
The variety of scenes they had was great.  Here is a concert stage:
And, they saved the best for last, but unfortunately for you, I took so many pictures on the first three floors, that the battery in my camera died. The creator, Dan Ohlmann, has done many 1/12 models of actual places in France, including restaurants, theaters, and one of my favorites: a natural history museum. I was hoping to grab some from their website to share, but really, their own photos are terrible. For some reason, they (very badly) photoshopped the artist inside many of the 1/12 scale buildings, making the buildings look HUGE. If you'd like to see more photos, you can find tons through Bing.