The last 5 weeks of the One Room Challenge just flew by.
We took another week off the ORC bedroom makeover last week because we were at a point where we'd have to spend money to continue, and when you're paying for two houses, money isn't exactly in abundance.  (Anybody want to buy a cute Victorian?  Please?)  We were also kept pretty occupied half the week by the sewer pipe that backed up and flooded our basement.  Fun!
The Hubs found me a dresser on Craigslist, though!  I think it's amazing and gorgeous, and the price was a steal.  It was also, literally 5 houses down from us.
It's a nice, cool brown, not too yellow, and not too red, so I didn't even want to re-stain it (in the future, I might want to make it a couple shades darker).  The hardware was a little drab though, so I rubbed them with gold Rub 'n Buff to brighten them up.
Rub 'n Buff gold leaf color is what gave the headboard a little makeover too.  I just needed something quick, cheap, and easy to make it a little less…IKEA.  It's not bad!
The chunky knit throw has been waiting to be made for a long time.  The deadline for the One Room Challege helped me finally get it done…as did learning how to arm knit (I told the story on Instagram).
I can't wait until we own the place and I can pull up the green carpet and the laminate that's underneath it.  Obviously, the room is still lacking a lot, like curtains and lamps and a rug…they're all still at our other house until it sells.  Are you sure you don't want to buy a Victorian?
Back to the room…the biggest job here was the painting.  It started with filling in all the grooves in the paneling, priming, and painting the walls.  There area total of 7 doors and 5 windows in this room.  All the doors were painted with the wall color, and all that moulding was painted black.  (Actually, it's not done yet, most of the moulding still needs to be finished, and the windows need to be painted white.)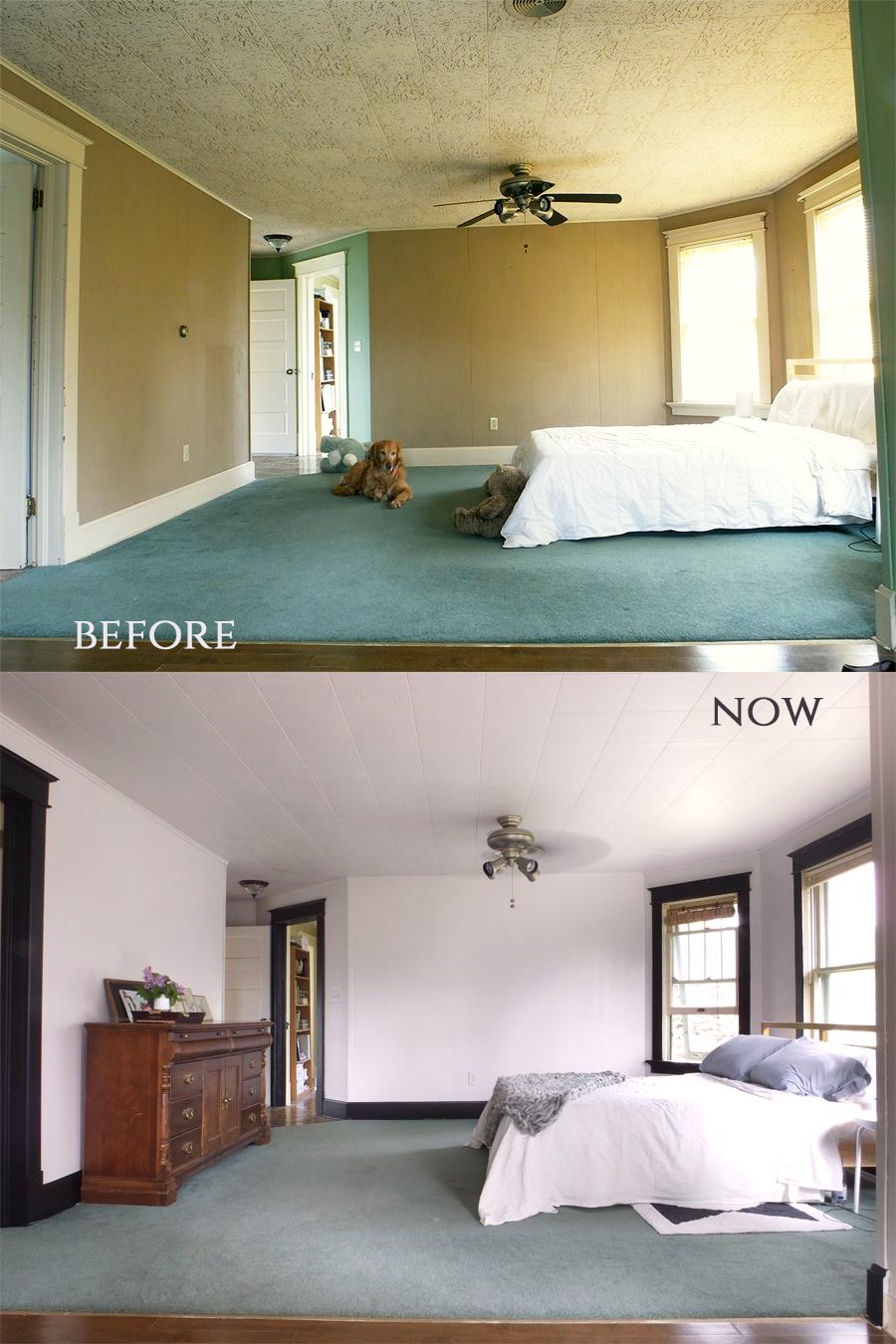 The ceiling!  We were still working on that Tuesday night and Wednesday.  The Hubs brought pizza, wine, and painting supplies home with him so we could just keep working through the evening.
The chair was another steal…only $5 at Goodwill.  And the kitchen area still looks the same as it did two weeks ago.  We're just going to pretend it's not there until we can renovate.  All told, this temporary makeover only cost the price of the Craigslist dresser, 2 gallons + 1 quart of paint, $10 on random things at Goodwill, and one $5 tube of Rub 'n Buff.
Hopefully by next Spring we'll own the house, and maybe we can give it the real makeover for next year's One Room Challenge! 😀
All the other participants have their final posts linked up too, you should go here to the One Room Challenge page to check out some great before-and-afters!  I really appreciate Linda from Calling it Home for hosting this challenge, a deadline and accountability always work wonders for me actually getting stuff done!