Isn't it funny that affordable wall-mounted range hoods so often only come in stainless now? It used to be the most expensive. So what do you do when you don't like stainless and your appliances are white? You paint a range hood.

We purchased ours from IKEA, but they don't sell that one anymore. There's a similar one on Amazon.
At first, we tried Rustoleum's Specialty Appliance Epoxy which claimed a smooth factory-like finish. We followed the directions on the can exactly. And it was horrible. Terrible, awful, ugly. A lumpy, bubbly, bumpy mess. So before it dried, we had to wipe it ALL off with mineral spirits and head back to the store.
So after one fail…here's how to paint a range hood:
Cover and tape off the sensitive parts of the hood like the vent and light sockets.
Spray the hood with a spray primer.
This is what we used.
The primer was such a gorgeous earthy gray that I hated to cover it up. But of course, it had to be done. Let the primer dry for 24 hours.
Spray paint the hood with high-quality enamel.
This is what we used.
(affiliate links)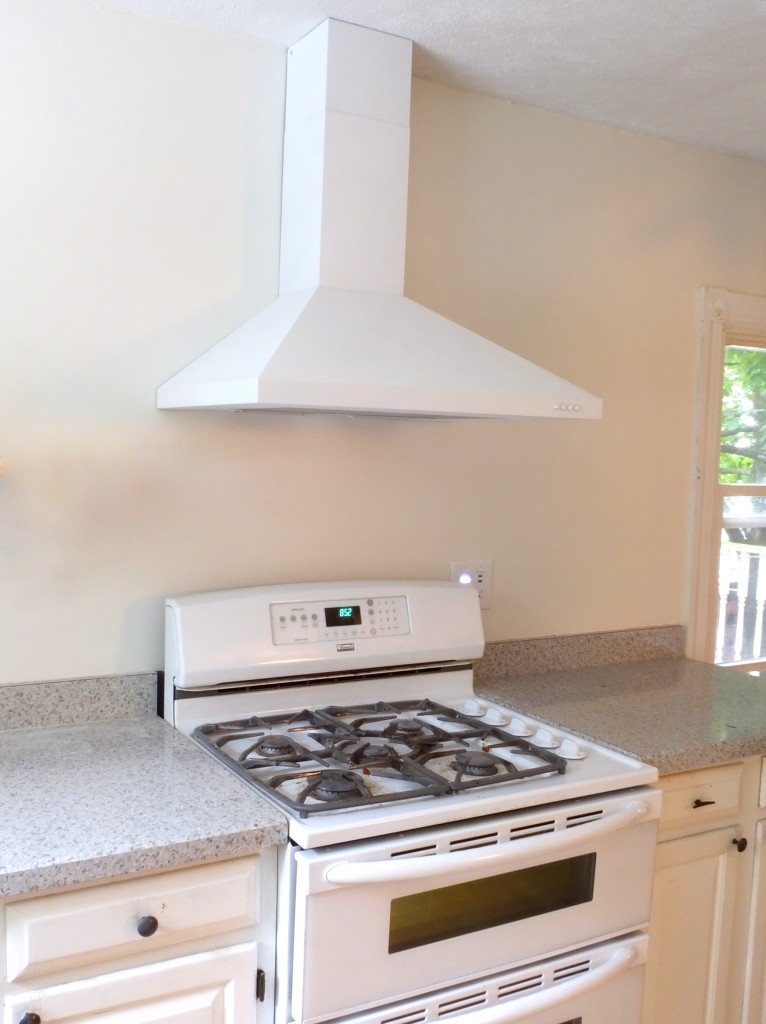 So it was as easy as spray painting and really affordable! I would recommend waiting at least 24 hours to install after painting it to give it time to cure.
The finish is so nice and smooth, and it cleans up very easily with a slightly soapy dishcloth.
We'll see if it needs any touch-ups in the future, but I'm pretty optimistic about it, it has held up very well so far to being carried back and forth from room to room during the past couple weeks of remodeling, and installation.
Update: it held up perfectly, and still looked great until we sold the house 3 years later.  And I cooked and used it daily.  We would totally do it again!