Along with many other random building materials, we have a single raw, pine stair tread in the dining room.
When I originally had the idea to ditch the upper kitchen cabinets for open shelving, of course, I first had to pitch the idea to the Hubs. So I grabbed that stair tread and put it against the wall as an example of how open shelving would look. He wasn't immediately sold on getting rid of the cabinets, but he was sold on using stair treads as shelving: it was thicker and deeper than boards sold for the purpose of shelving, AND it was bullnosed. All for about the same price.  That is the shelf that was in the last post about the brackets.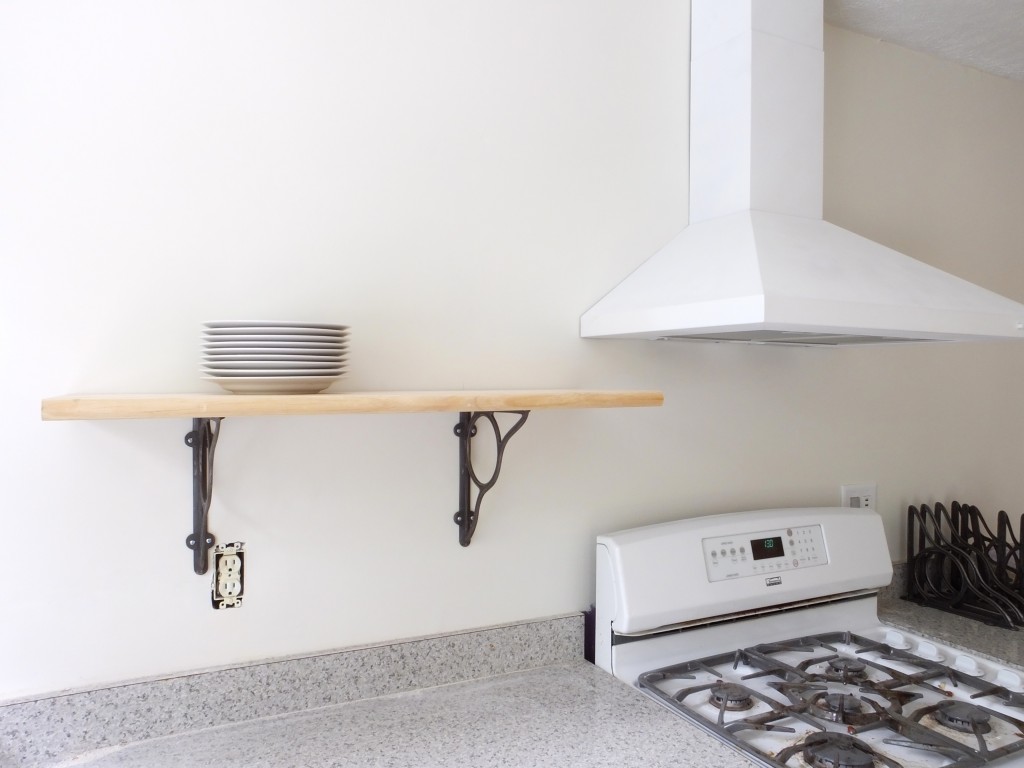 So once he warmed up to the idea of open shelving in the kitchen, it was an easy choice: we'd go with stair treads instead of official "shelving."  We would only need 6 four-foot treads at $10 a piece.  The IKEA upper cabinets we had priced were going to be around $1000, so $60 was a great start to a less expensive, and more open kitchen.
Now the dilemma is which stain to use.  We picked up Minwax's new "Weathered Oak" but it just didn't look like the color on the sample.  I wanted some gray in the color, but this just turned out pretty flat and drab.  Mostly, I wanted the warmth of the wood to balance out the room and this stain just wasn't doing it for me.
Not sure if I should pick up a different stain all-together or try mixing it with a warmer color that I already have and just doing one coat?  So many options!
But first, we're taking a little break for the next week before we get back to fixing the wall and hanging the remaining brackets and staining the shelves.  So I will not have projects to share until October. Have a lovely week-and-a-half and see you next month!
Today's post is brought to you by Zinc Door.  Check out their Palu line of bold statement furniture.  Detailed, distinct and effortlessly classic, the Palu includes chairs, beds, dressers and more, featuring anything from natural wood to textured materials, the versatile collection is equally as elegant and refined as it is modern and approachable. And, Zinc Door is offering 15% off Palu with promo code PALU15, but the discount only lasts through the October 15th, so if you're interested, hurry up!